Painted Collage Winter Birds for 1st Grade
I used several mediums for this one. I chose watercolor for the bird since I wanted to complete this in just one class session. Any medium can work for this. The kids have fun cutting, gluing and painting all in one class. It makes it very fast paced and they still all come out great!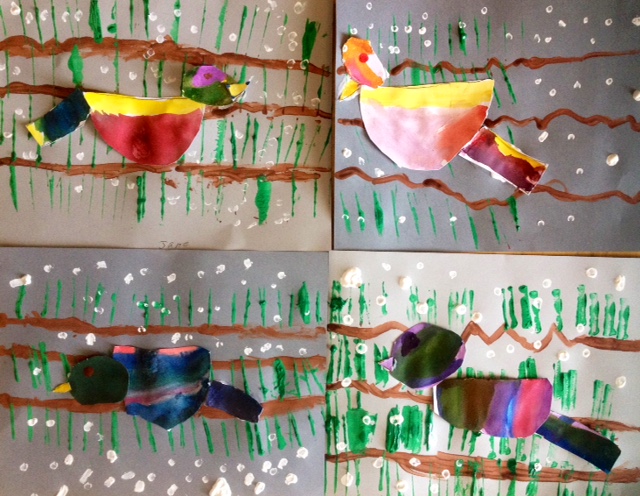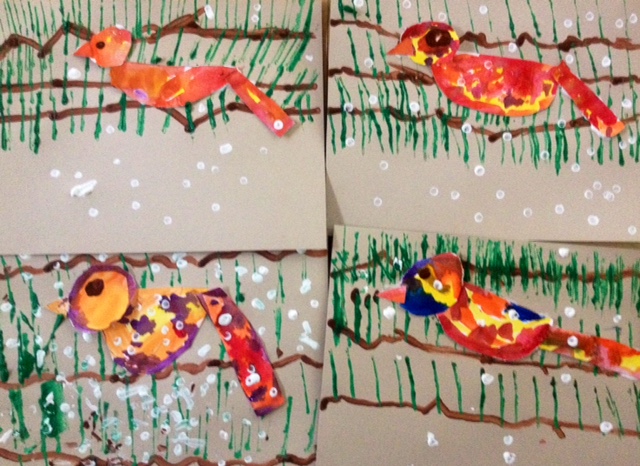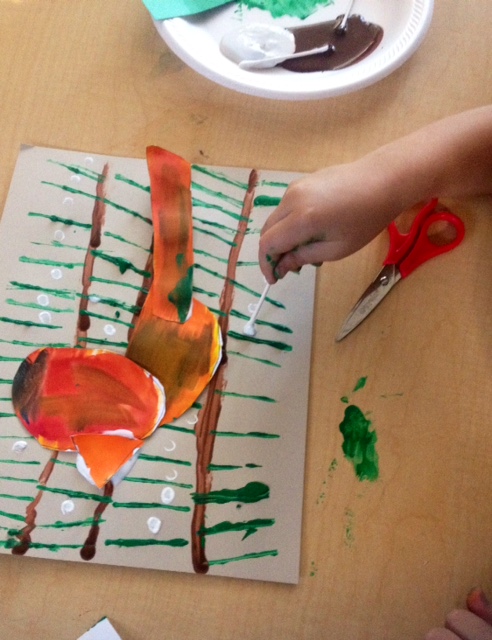 I've seen many variations of these Winter Birds over the years… I've taken bits and pieces and ended up with these cute collage winter birds.
I used a lot of materials for this lesson, but these really did come out great and finished it in about 50 min.
Materials: Grey Cardstock, watercolor paper, Watercolors, acrylic or tempera (brown, green, white), paint brush, water cup, pencil, eraser, scissors, glue, Q-tips, index card or thick paper cut into 1 or 2 inch squares( used for stamping on the pine needles)
Start off by drawing individual shapes for the winter bird on the watercolor paper: a body, a head, a tail and a beak. You can add a wing too. Paint the shapes in with watercolor. I warn the kiddos, no puddles of paint… It won't dry in time to cut and glue. Quick, thin layer of watercolor. This works well when painted with acrylic as well.
While the painted watercolor is drying start on the Cardstock background, use a Q-tip to paint 3 brown branches. Using the 1or 2 in. cut piece of index card or thick paper, dip it into the green paint, use it as a stamp to make the pine needles on each branch with green paint.
By then the watercolor should be dry. Cut out the body and glue it to the painted background, then the cut out the head and glue. Then the tail and the beak.
Then using a Q-tip make a dot with the brown paint for an eye.
Then add the falling snow with a Q-tip and white paint.
Click here for my recommended art supplies on Amazon