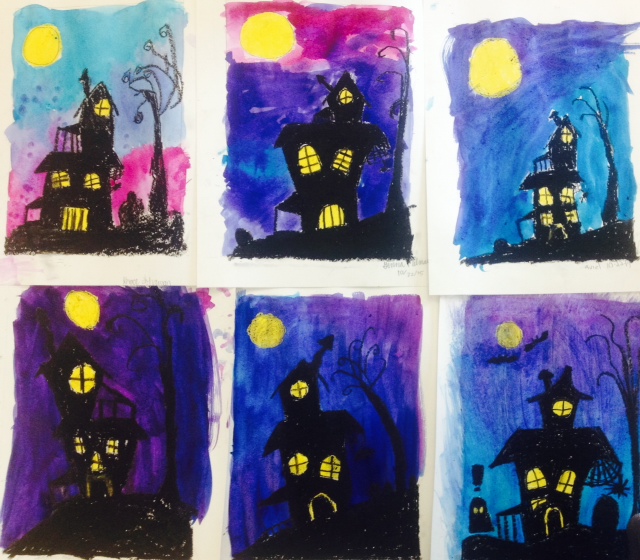 5th Grade Spooky Houses- oil pastel & watercolor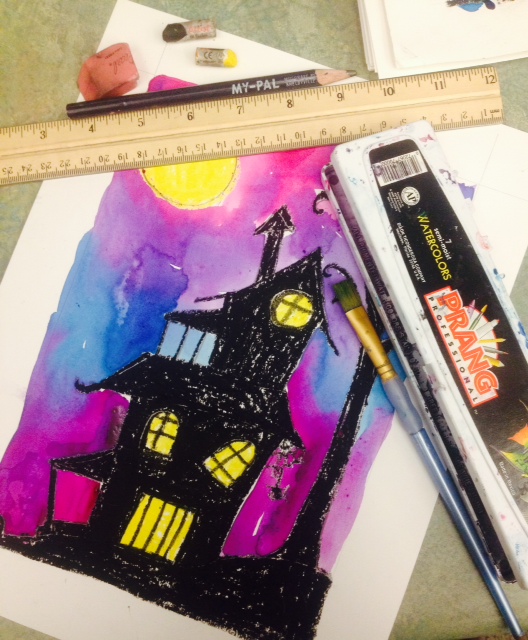 I have used this lesson for middle school and upper elementary.
Materials: watercolor paper, black & yellow Craypas oil pastel, Prang Watercolors, pencil, eraser, large watercolor brush, water cups.
We draw out a simple haunted house. I give them options through each step to create different spooky house shapes. We draw the hill and the moon. Then fill in the moon and windows with yellow oil pastels. Fill in the spooky house, hill and tree with black oil pastel.
***When we use the Watercolors I only allow them to use limited colors, to avoid a big mess of the watercolor palettes and some times they need to be used in other classes. For instance, I'll let one grade use blue and purple, then another grade level will use red and orange. It keeps the watercolor sets from getting gross.
For this lesson we were limited to blue, purple and magenta. We fill the colors with water and do a quick wash throughout the sky.
Click here to order Prang Watercolors and oil pastels directly from Amazon
This lesson always comes out stunning!
Have fun and Happy Halloween!