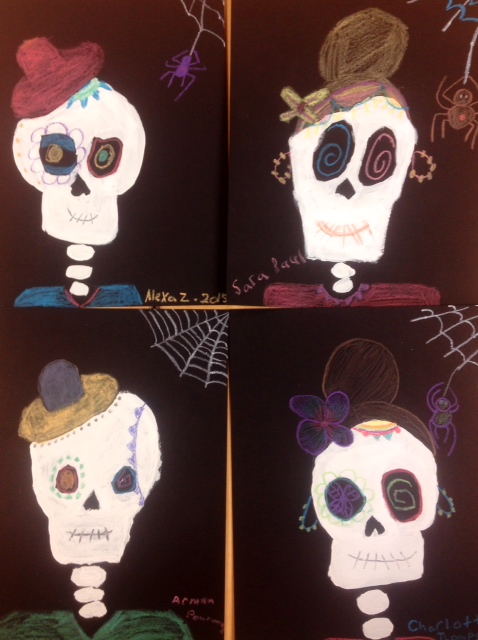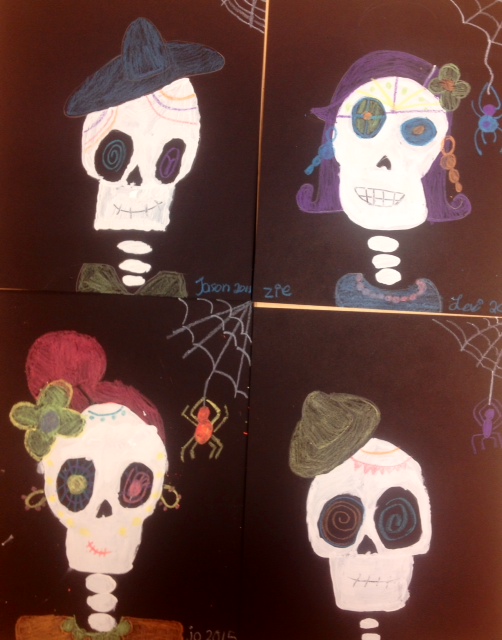 Halloween Art- Painted Skeletons
6th Grade Art Lesson in Acrylic & crayon
Materials: black Cardstock, white acrylic paint, pencil & eraser, crayola construction paper crayons, paint brush
We begin by drawing the skull, jaw, spine and shoulders. Once everything is in place, we add cheek bones, eye sockets, nose, and mouth. We then decide on a boy or a girl. Girls get hair with a bun, a flower, and earrings. Boys get a hat. We draw those in and erase any lines we don't need.
We paint a very thin layer of the white acrylic paint starting from the top of the head all the way down to the spine, going carefully around hair/hat, eyes & nose. When we get to the mouth we quickly paint over it and the use the back of the brush to scrape along the lines of mouth so the black paper shows through.
While the paint is drying we start coloring in the hair/hat then the shirt. Then we move on to adding designs inside the eyes. By then the paint should be dry enough to create designs around the rest of the face. Don't forget the earrings and the flower on the girl.