CRAYOLA CONSTRUCTION PAPER CRAYONS 
A must have!!! I rarely use regular crayons. Crayola Construction Paper Crayons go on a bit thicker and the colors are beautiful.
I use these in 3 ways for my art lessons:
I have my full, organized sets. I pull these out when the full range of colors are needed, mostly only for the upper grades. I am a little crazy about making sure they stay full complete sets. I do not let them dump the crayons out on the table. They may only take out 1 at a time and they must give be back the full set with all of the colors in it at the end of class.  If any set is missing a color at the end of class I do not let it get mixed in with the rest. I replace the missing color from my bucket of whole crayons.
I have a bucket of whole crayons from past years incomplete sets. At the end of each semester I try to go through each crayon box, make sure all of the colors are there and pull out broken ones. Any incomplete sets I dump in to a bucket. That becomes my extra crayons to replace missing or broken crayons from my complete sets. I also use this if I need just a color or 2 for each student for a lesson. Then I don't have to pull out my complete sets, especially for the lower grade levels.
And I have small broken pieces organized by warm & cool colors.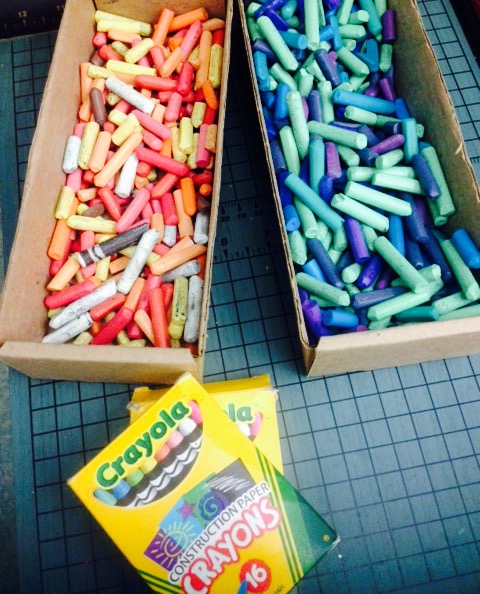 All of my broken Construction Paper Crayons go into these two boxes, Warms & Cools. I use these ALL THE TIME. I put the colors I need in a little cup for each student or I put a handful on each table. They can be used like pastels, using the side to shade in large areas.
I order my class packs from BLICK ART MATERIALS
I am just as crazy about these watercolor pencils as I am the Construction Paper Crayons. I do not use colored pencils, ever! These are great for watercolor, coloring and shading and SO great on black paper! I prefer the 24 pack of colors, it gives such a great range of colors, but its not necessary. They're great either way.
I am a stickler about keeping these super organized too. I have my
full organized sets and
4 buckets of colors: Warms, Cools, Primary Colors, and Brown, Black & Grey that are from past incomplete sets. I pull out all the white pencils, I only use them for a few projects on black paper.  I pull out colors we may need for a lesson or set the buckets out for them to grab the colors the want.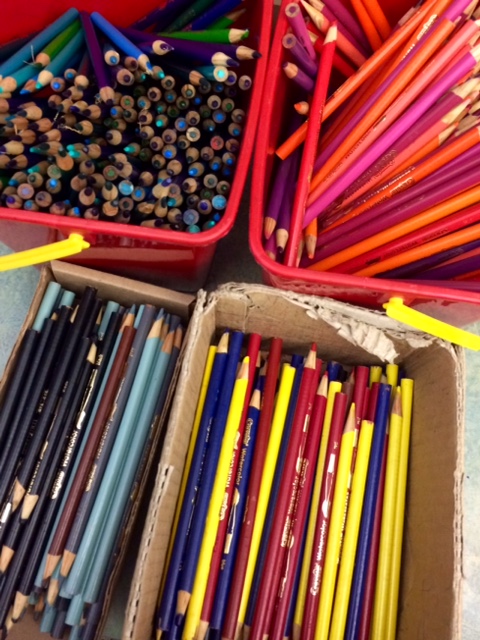 I also use the buckets when I have my Full Sets out, so the students can replace a broken one during class. Which means NO SHARPENING PENCILS DURING CLASS!!! They put the broken pencil in the bucket, tip pointing down, and grab a new one of that color to put in their set. At the end of the day I know which ones in the buckets need to be sharpened and all of my sets are complete!
I order my class packs from Blick Art Materials
I do not use the generic school brushes. They're awful!!! Way too flimsy for the kids to control. Royal Langnickel brushes are great for Watercolor and Acrylic. The assorted sizes are all that I need for every project through the school year. I usually only need to replace them every 2 years.
I order my class packs from BLICK ART MATERIALS