HALLOWEEN SPOOKY HOUSES ART LESSON
Spooky Houses in Watercolor & Oil Pastel. These Spooky Houses can be easily adapted for 3rd grade and up.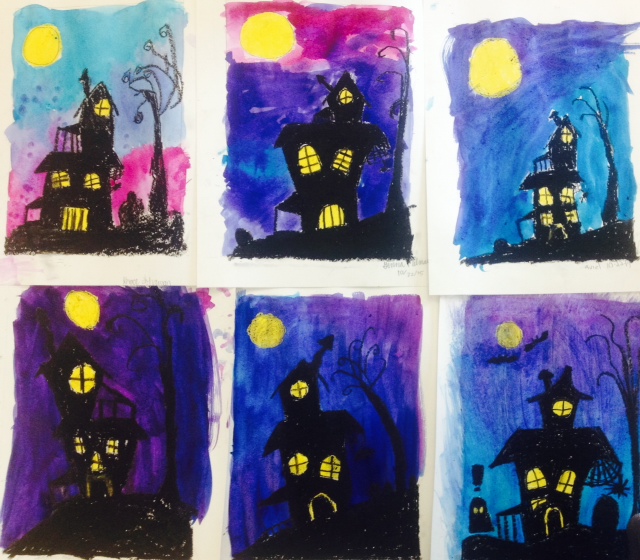 MATERIALS: Watercolor Paper, Cray-Pas Oil Pastels (black & yellow), Prang Watercolors, pencil & eraser, water cups, brush, paper towel
Draw spooky house on watercolor paper. I gave students a few example of houses. Start with the basic shape, a rectangle or square. Then choose a triangular or rectangular roof. I showed them details they could add to the house; towers, a porch, a banister along the roof, etc. Then the windows and any details in the back ground, such as the moon, a tree, tombstones.
Start by coloring the moon and windows with yellow oil pastels.
Then start filling in the spooky house silhouettes with black oil pastel.
I give a complete demonstration of filling the Prang Watercolor paint pans with water, I stress the point that Watercolors do not work if you are not using enough water. I show how to create a wet into wet wash in the sky using 2 colors, and how to create clouds by dabbing the wet watercolor off with a paper towel.
*I limit it to 2 water colors only. Any more than that turns into a mess.